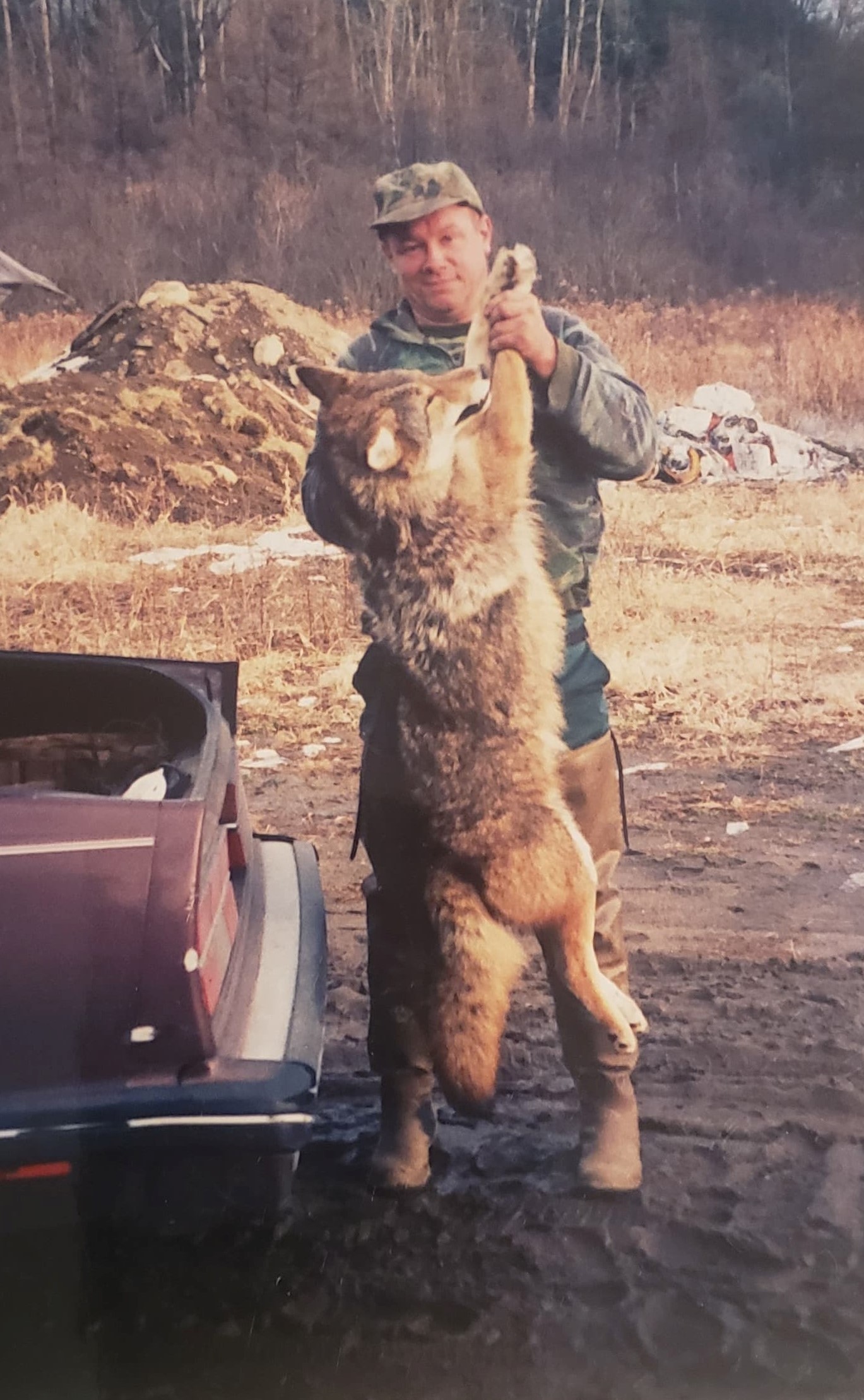 We are honored to have Upstate New York trapping legend Trapper John Sawyer participating at this year's event.
Trapper John began trapping age at 7 in Broadalbin NY and 60 years later is still going strong to keep the trapping tradition of the great Nicholas Stoner alive. In his 60 years of trapping, Trapper John has trapped across much of the United States, including Alaska, but has predominantly trapped in Fulton County.
He was once named the New York State Trapper of the Year, and holds the distinction of having trapped the largest Otter in New York State, as well as the second largest Beaver. The Otter was 55" long and weighed 32 pounds. The Beaver weighed in at 89 pounds, just 2 pounds shy of the NYS record of 91 pounds. Both were taken in Fulton County, and the Otter was donated to the Adirondack Experience (formerly Adirondack Museum) in Blue Mountain Lake, NY.
Sawyer has amassed a collection of over 2,500 working traps, and will have some of them on display at the event to tell the history of the sport. He will also have a display of fur hats made from the pelts of different species he has trapped over the years. Included are; Otter, Beaver, Timber Wolf, Coyote, Grey Fox, Red Fox, Pine Martin, Bob Cat, Lynx, Muskrat, Badger, Fisher and Wolverine. Come meet Trapper John and learn his tricks of the trade and the history of trapping.
Below is a story written about trappers as a tribute to Sawyer and the trappers of Fulton County:
A DAY IN THE LIFE OF AN ADIRONDACK BOY TRAPPER
Dedicated to John Sawyer, one of the last Adirondack career trappers
By Dave Deuel
From the Broadalbin Historical Societies September 2004 Lamplighter Journal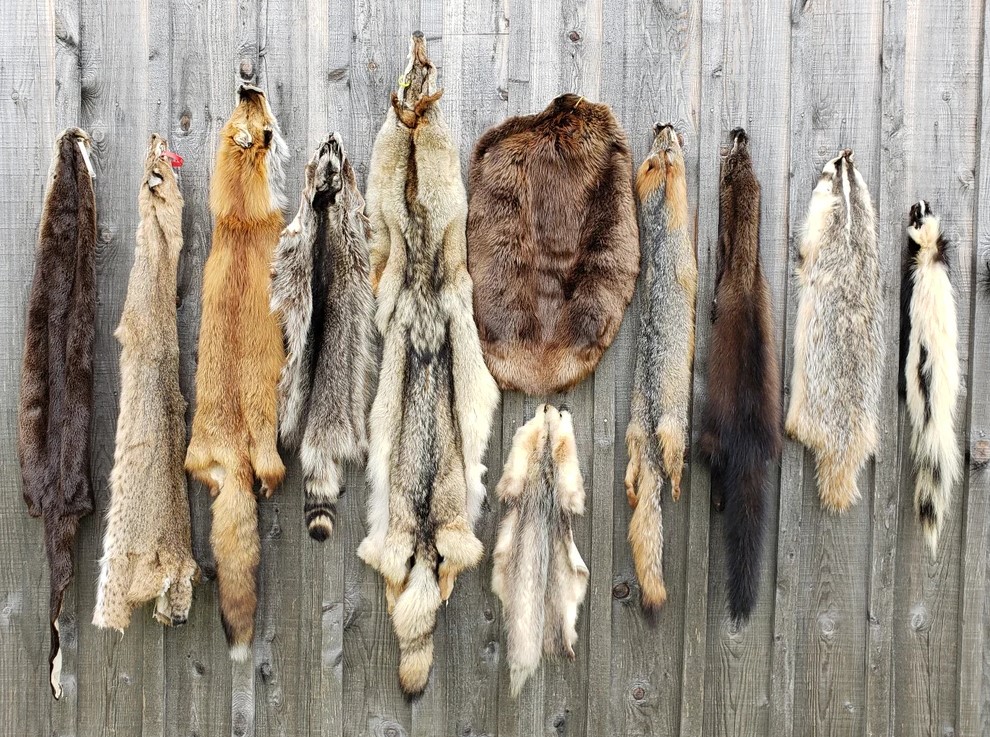 Trapping season finally arrived. It was Halloween week, time to perform our favorite yearly ritual–boil our traps in a kettle filled with water and maple leaves. The resulting "gray rust" coated the traps leaving them better camouflaged. As we ceremonially huddled around the fire watching our traps boil and throwing on an occasional log, we dreamed of the best trapping season ten-year-old boys had ever known at the foothills of the Adirondacks. After all, it was in our town, Broadalbin that our hero, Nick Stoner once trapped. Most kids our age looked up to baseball players for heroes. We did too. But Nick Stoner topped the list. He was our local trapping legend.
Having attached my identification tags to my traps, honed my jackknife, and filed my father's hatchet, I was ready for the season. With a few apples, some notched stakes, and "ripe" lure, I'd be on my way the next morning. I woke up at 4:30a.m. to an oatmeal breakfast with my dad. When I ventured out into the cold, pack basket mounted on my back and Remington single-shot, bolt action 22 in my hand, Jack Frost lay thick on the new-fallen leaves. Predictably, the magnificent colors of autumn in the Adirondacks put their daily spell on this boy trapper.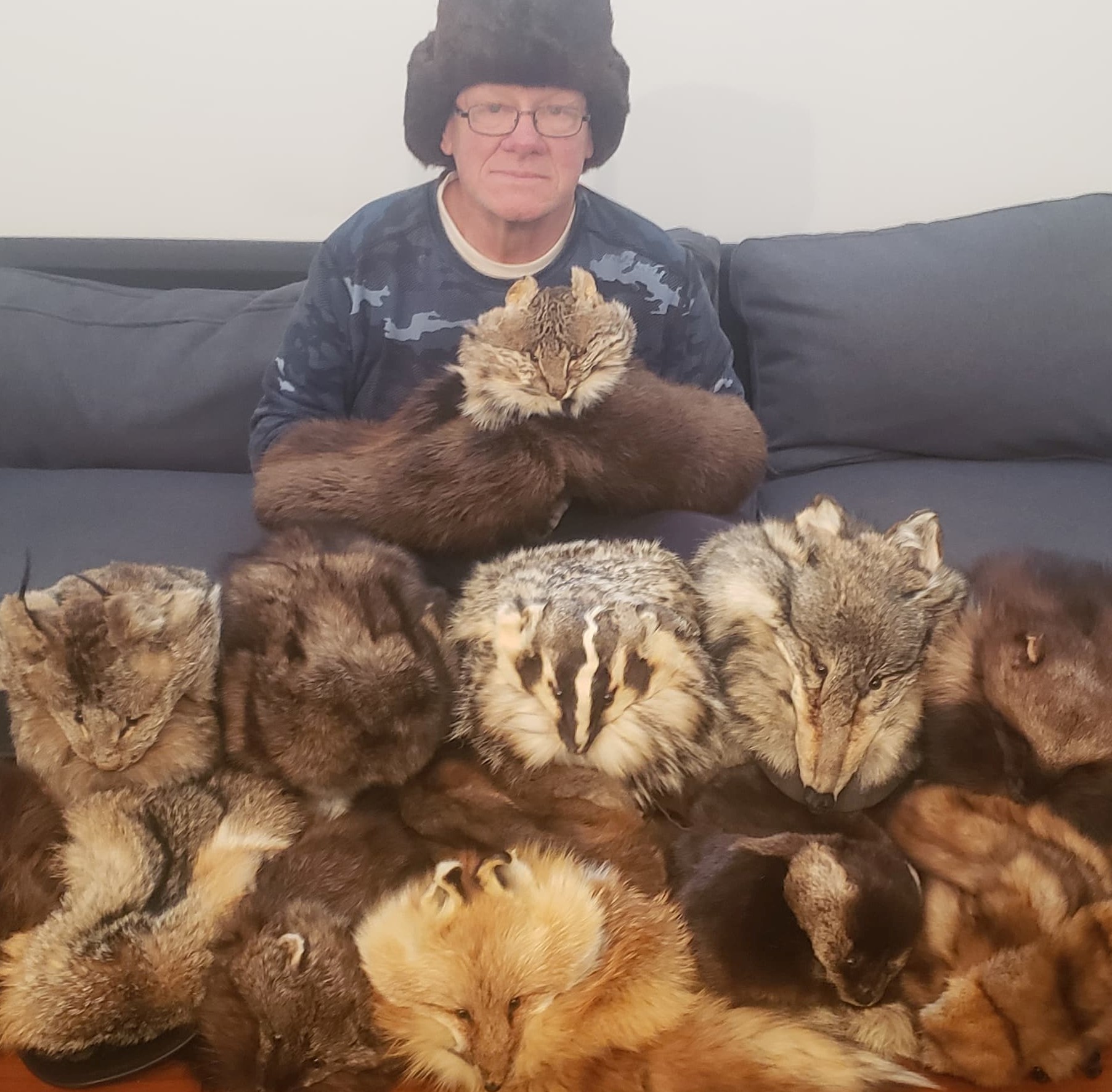 As I raced past the historic site of Nick Stoner's cabin to set my trap line, I reclaimed my title as trapper in the Stoner tradition. Inspired by the moment, I pictured myself in buckskins and a coonskin cap with a mountain of furs bulging out of my pack basket. I dreamed about the days when cougars, bear, beaver, wolves, and countless other fur-bearing animals overran the region. No longer a skinny, ten-year-old boy I felt like a giant of a woodsman.
When I reached the Kennyetto creek side it was frozen over. I had to break the ice with my hatchet to set some of my traps. Icy cold waters stiffened my hands making them ache. I quickly finished my set and slid my frigid, red hands into my deerskin, fleece-lined mittens. Stirred by the excitement of the first day, I wandered off to check out a new area of the Kennyetto for trapping opportunities. As I trudged up the bank of the creek, I paused to realize that I loved trapping.
Hunger soon hit me, so I ate one of my bait apples that smelled a little bit like muskrat lure. When I finally looked down at my watch it was 7:00a.m. I was late. I raced home, changed, and shot off to school on my stingray bike as fast as I could go. Despite repeated washings, my hands still stunk of lure. Friends in school said, 'What's that awful smell?' or 'There must be a skunk outside!' But my embarrassment quickly subsided when I pulled out my latest issue of Fur, Fish, and Game and read it from cover to cover for the third time while holding it under my desk so the teacher couldn't see it! As the teacher passionately taught the lesson, I read about how to make new and better sets and planned great trapping adventures.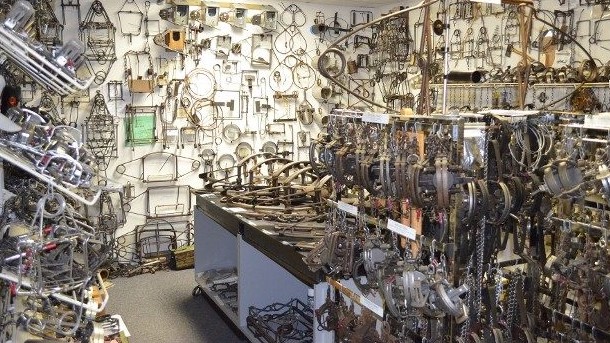 In the early afternoon, I could see the Adirondacks from my study hall window. From there, I daydreamed about getting out of school and onto my bike (still smelling like lure) and flew down high school hill to deliver my papers. By 3:00p.m. my strength was fading. The early morning trapping venture had caught up with me. But at 3:30, school was out! I slugged down a Mountain Dew, delivered my newspapers and collected enough money from customers to stop by the home trapping business of Charlie Benedict, ace trapper. Charlie was my mentor: he showed me how to skin my first rat; offered me many tips on making sets; and purchased my pelts for about $1.50 each. Charlie was a living legend in the tradition of Nick Stoner. I liked the musky smell of his house, an odor largely due to about 1000 rat, mink, and coon pelts in the basement—almost heaven.
I only delivered papers to support my trapping addiction.  After racing around on my paper route, sweating in the cold, and kicking off the gamey dogs that loved to bite paperboys, I rode my bike down to the Kenneyetto Creek to see if I might have caught some rats during the day. On several occasions I caught two in the same set in one day—a boy-trappers trophy-dream. Twice I accidentally caught a mink!
As I rode home at about 5:30p.m. with the harvest moon shining through the thinning colored leaves left on the trees, the smell of burning autumn leaves in the air, I was deeply satisfied. With my paper bag slung over my shoulder holding several newly purchased traps and an award-winning rat hanging off my handlebars, I concluded that life was good.
When I got home, I sat down to one of mom's meals fit for a trapper. Roast beef, acorn squash, and mashed potatoes nourished my faint soul back to life. Getting to bed at 8:30p.m. prepared me for another day of Adirondack trapping. Dreams of 50-pound muskrats ended abruptly as I woke up again at 4:30a.m. There was no question about it; trapping was the life for me.
41 years later, I work at a desk job most of the day. I didn't become a famous Adirondack trapper in the tradition my hero. I never even purchased the Adirondack Guide Boat that I'd always dreamed about. But the 3 traps that still hang from my office wall often call me back to the days when I trapped with the greatest of the greats in the tradition of Nicholas Henry Stoner.
*Postscript: The boy in the story is any one of us Broadalbin boys who trapped in the late 1950's and early 60's. It describes our common experiences in trapping. To some extent, it was a game or a contest to see who could trap the best. But basically, we just loved to trap. I dedicate this article to John Sawyer because he is the only one of the old group who stayed with trapping. I feel that John deserves the recognition of being the only enduring "Adirondack Boy Trapper" from the old Broadalbin gang. Additionally, he has perfected what none of the rest of us could. In fact, he has done far better at trapping than all of us put together! I hope that this short essay will serve as a fitting gesture of appreciation for John. The honor belongs to him. He is the best of us.